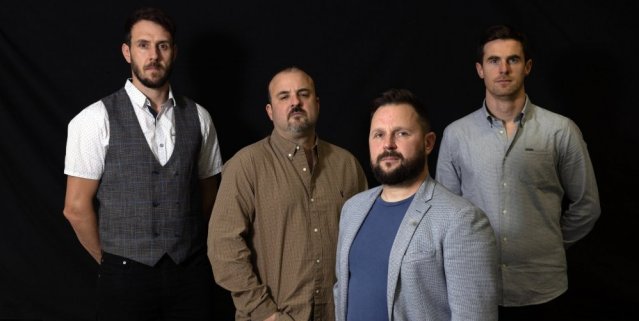 THE JEREMIAHS
LiveIreland 2015 Best Vocal & Instrumental Album of the Year
På turné (DK): Ingen aktuelle planer
Festivaler (DK):
Ingen aktuelle planer - men forespørgsler velkomne
Seneste album: "The Femme Fatale of Maine" (2017)
Nyt album på vej i efteråret 2022!
The Jeremiahs er et af de mest opløftende bands, der er vokset frem af Dublins folkemusikmiljø i mange år. Bandets blander traditionelle og nye toner og har gennem dette skabt deres helt egen "storbyfolk". De blev dannet i 2013 og opnåede umiddelbar anerkendelse da de vandt Ballyshannon Festivals showcase konkurrence det år. Gruppen udgav deres debutalbum (The Jeremiahs) i 2014 og den egenkomponerede sang Forgotten Sons fra albummet vandt førsteprisen i 2015 TradConnect Songwriter Showcase, hvor juryen bestod af ingen mindre end Christy Moore. Albummet blev også kåret til Best Vocal/Instrumental Album ved LiveIreland Awards 2016. The Jeremiahs består af:
Joe Gibney - sang, stomp box
James Ryan - guitar, bouzouki, backingvokal
Niamh Varian-Barry - violin, viola, sang
Julien Bruneteau - fløjte
Joe Gibney er en talentfuld sanger fra Dublin præget af en smeltedigel af forskellige musikalske indflydelser og som byder på et varieret repertoire af sange fra muntre sea shanties til følelsesladede traditionelle sange om kærlighed, lidelser og sorg. Hans åbenlyse passion og kærlighed til disse sange, gamle som nye, er nem at se, og han vandt for nylig en LiveIreland Award 2016 for Male Vocalist of the Year.
Guitaristen og bouzoukispilleren James Ryan er fra Dublin og trækker på en bred vifte af indflydelser fra forskellige genrer og traditioner, hvilket kommer til udtryk i hans karakteristiske rytmiske akkompagnement. Han er også en anerkendt underviser og en erfaren lydtekniker.
Niamh Varian-Barry kommer fra County Cork i Irland og har tidligere spillet i bandet Solas. Niamh er en virkelig god musiker, hvis violinspil er en vigtig del af bandets lyd og dertil en dygtig sanger.
Julien Bruneteau kommer fra Bordeaux og er en dygtig fløjtenist med tydelige rødder i jazz (hvilket især høres i hans fremragende evne til at improvisere) og med en stor kærlighed til irsk musik.
Som band formår The Jeremiahs at sætte musikken fra deres irske rødder sammen med et forfriskende nyt "sound" til et uimodståeligt slutprodukt. De vil sikkert blive til et band, man skal regne med i de kommende år - de er allerede godt på vej.
"There is passion and skill a plenty on this album, more than enough to suggest and ensure that The Jeremiahs have a long and fruitful career ahead of them. On this evidence, I for one am a fan and look forward to seeing these guys live before too long. Go out and buy the album. You won't regret it. An impressive debut, and no mistake!"
Órla Sweeney, Ceol Collective
"Throw out your idea of what an Irish "ballad" group sounds like, especially if you are thinking about the groups of yesterday. No one has ever sounded like the Jeremiahs, nor could they. This group is brilliant, absolutely fresh, and can be around as a major force in Irish music as long as they want to be. You read it here first. The Jeremiahs are tomorrow. Incredible."
LiveIreland
"This exquisite Irish trio celebrates singing and songwriting at its very best. Stylistically somewhere in the contemporary Irish and English folk camp, the Jeremiahs are excellent interpreters of new folk ballads - most of them penned by themselves. Yet they are also great instrumentalists (...) Highly recommended."
Michael Moll, FolkWorld
"Superb musicians who engage with their audience to produce a memorable show, definitely not to be missed. Irish Music at its very best"
Charles Devlin, Director Ireby Festival