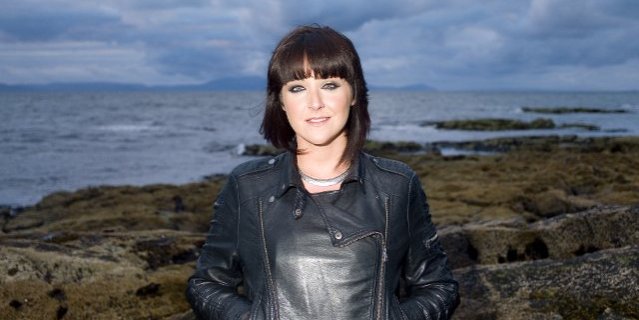 FIONA HUNTER
MG Alba Scots Trad Awards
Scots Singer of the Year 2015
På turné (DK): Ingen aktuelle planer
Festivaler (DK):
Ingen aktuelle planer - men forespørgsler velkomne
Fiona Hunter
har siden 2004 været en af de markante sangstemmer i det skotske band
Malinky
. I 2014 udgav hun sit første soloalbum (produceret af
Mike Vass
), indeholdende sange fra hendes hjemby Glasgow og andre steder, og fik med dette for alvor bevist, at hun er en af Skotlands førende sangerinder inden for den traditionelle musik.
Fiona har en særlig forkærlighed for sangene hos "the Scottish Travellers", de omrejsende folk i Skotland, og har fået en førstehåndsoplæring fra nogle af de sidste traditionsbærere blandt dem. Sammen med Malinky vandt hun den prestigefydlte pris Folk Band of the Year i 2010 ved MG Alba Scots Trad Music Awards og i 2015 vandt hun helt fortjent prisen som Scots Singer of the Year.
Live optræder Fiona Hunter oftest i en duo med ovennævnte Mike Vass eller med fuldtallig besætning som Fiona Hunter Band.
"...Hunter proved her mettle immediately upon joining (Malinky) in 2005, and time has only continued to improve and enrich her singing (...) delicately steeped in regret while emotively raw-edged, her voice at once firmly settled, or weighted, and dynamically fluid."
Sue Wilson, The Scotsman
"Fiona's skill is that she is equally convincing when singing a piece of nonsense like 'The Weary Pund O' Tow' as when delivering a big ballad such as 'The Cruel Mother' or 'Young Emsley'."
Dai Jeffries, folking.org
"Hunter's strengths lie in a vocal tone that she varies to suit the mood of the song while always sounding like the real deal and her ability to project a genuine empathy with the characters she's singing about."
Rob Adams, The Scotland Herald