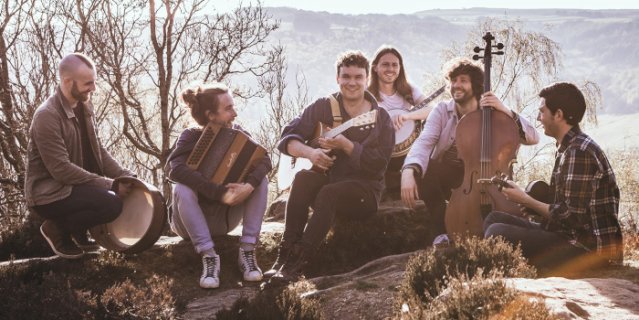 SAM KELLY
BBC Radio 2 Folk Awards 2016 Horizon Award
Festivaler (DK):
Ingen aktuelle planer - men forespørgsler velkomne
Sam Kelly er et af Englands varmeste folknavne, og sammen med sit faste backingband The Lost Boys tog han Tønder Festival med storm i 2017. En utroligt iørefaldende, ung sanger med en fantastisk stemme og nogle herlige medrivende sange.
Sam Kelly brød igennem i tv-programmet Britain's Got Talent (et bevis på, at der af og til dukker noget brugbart op fra den slags!) og har siden etableret sig som et af de mest spændende unge engelske folknavne.
Hans fantastiske sangstemme, charme, energi og smittende humør kombineret med iørefaldende fortolkninger af gode sange har vundet ham mange fans. Selvom han ofte optræder med The Lost Boys, så er han ligeså tit på turné med sin trio, hvor han bakkes op af to af de "fortabte drenge" - Jamie Francis (banjo) og Archie Churchill-Moss (harmonika).
Sam Kelly udgav i 2015 sit debutalbum The Lost Boys, der høstede et hav af gode anmeldelser og i 2016 fulgte en BBC Radio 2 Horizon Award. Sammen med The Lost Boys udgav han i oktober 2017 en opfølger, Pretty Peggy, der ligeledes er blevet rost til skyerne. Endnu et album fra Sam Kelly & The Lost Boys, The Wishing Tree, udkommer i august 2021.
"A captivating performer, Sam Kelly has one of the best young male voices in British acoustic roots music. Seriously...Check him out!"
Sean Lakeman
"I think this guy is absolutely brilliant… His voice is beyond sublime"
Mike Harding
"What a beautiful singer. (Sam) has that really rare male voice, that soft-edged tone, you know those beautiful tenor voices of the 30's and 40's...it really draws you in"
Kate Rusby
"Sam has such a beautiful voice and sings with so much soul. I've seen him perform live a few times and he's amazing"
Cara Dillon