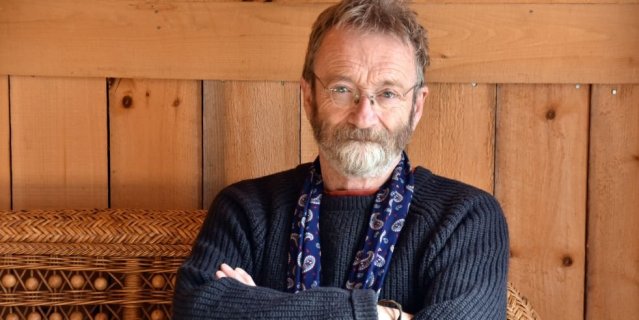 DAVID FRANCEY
3 x JUNO awards (Canadas Grammy),
4 x Canadian Folk Music Awards m.v.
På turné (DK): Ingen aktuelle planer
Festivaler (DK):
Ingen aktuelle planer - men forespørgsler velkomne
Seneste album:
The Broken Heart of Everything (2018)
David Francey
er en af Canadas bedste sangskrivere (hvis ikke
den
bedste). Han har gæstet Tønder Festivalen flere gange, senest i 2012 og også turneret i Danmark.
David Francey er født i Skotland men flyttede som barn med sine forældre til Canada. Oprindelig var han tømrer, og han gjorde først sin entré på musikscenen i en sen alder - han har dog ikke spildt tiden: Tolv albums er det indtil videre blevet til, tre gange har han vundet Canadas fornemste musik pris, JUNO award, fire gange har han fået en Canadian Folk Music Award, og i 2008 fik han den prestigefyldte SOCAN Folk Music Award - bare for at nævne nogle af de mange officielle anerkendelser, han har hentet. Men priser eller ej - først og fremmest, så skriver han dog nogle fantastiske sange, der går rent hjem hos de fleste.
Som avisdreng i Ayrshire i Skotland fik han en forsmag på arbejdslivet. Han slugte avisens nyheder med stor appetit og grundlagde en livslang interesse for politik og verdens begivenheder, mens han udviklede den sociale bevidsthed, der danner baggrunden i hans sange.
Da han var 12 år emigrerede han og hans familie til Toronto i Canada. De mange familieudflugter i det sydlige Ontario - med flerstemmig sang i bilen - gav ham en kærlighed til landskaberne, historien og menneskerne i hans adopterede hjemland.
De tætte bånd til Canada og den almindelige canadier voksede gennem Davids blaffeture på tværs af landet, arbejdet på Torontos rangerbanegårde, i Yukons bush og på byggepladserne i Quebecs Eastern Townships. Denne tilknytning skinner i gennem i hans sange om jernbanelinjerne, gårdene og søvejen langs St. Lawrence River.
På scenen er David Francey både sanger og historiefortæller. Han er en mand, der udstråler ærlighed og varme, og hans skæve humor og skarpe iagttagelser kombineret med hans åbenhjertige sangstil har vundet mange loyale fans.
"David Francey has the warmest voice you've heard in years. The songs he writes are so connected and relevant to the heart & experiences of the working man, you'll listen as though you've known this singer all your life"
Kate Power, Artichoke Music, Portland OR
"David Francey is the best Canadian folk writer that I have heard in 20 years. I think that he is going to be a voice in this country for a long time and that his songs will be sung by my great, great, great grandchildren."
James Keelaghan
"David Francey's Torn Screen Door CD is one of the very best albums I've heard. I've found words and melodies from the album going through my head again and again. Find it and buy it...you won't regret it."
Vic Bell, the Nickelodeon, Calgary, Alberta
"David Francey's songs are lean, whippet-like creations, a bit like the man himself. With not one wasted word or superfluous line he takes the everyday, often mundane business of living and elevates it into something infinitely more noble and memorable, the mark of a truly gifted songwriter."
Eric Bogle
"Without a doubt, David Francey is the BEST folk singer/songwriter going in Canada today"
Fred's Records, Newfoundland
"He's the closest thing this country has to Woody Guthrie"
The Georgia Strait, Vancouver
"David is the most exciting new narrative songwriter to emerge in many years"
Brian McNeill
"David Franceys stemme er en åbenbaring, her er fuld styrke og klang på. Kan absolut anbefales."
Berlingske Tidende
"Francey's clear, simple songs speak volumes to his followers. After a decade in music, David Francey is known as one of Canada's finest tunesmiths and a champion of the Everyman, admired for his less-is-more approach to writing. It's amazing how he manages to address deep stuff with such spare ingredients"
The Edmonton Journal