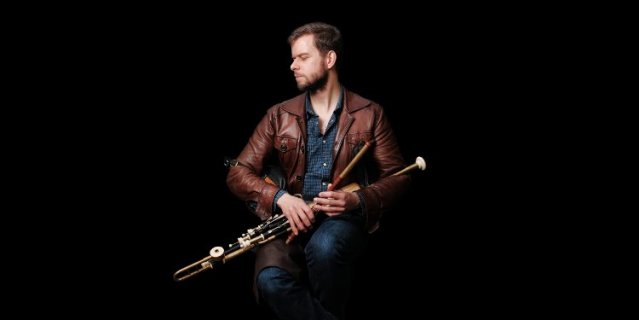 CALUM STEWART
MG Alba Scots Trad Awards 2018
Instrumentalist of the Year
På turné (DK): Ingen aktuelle planer
Festivaler (DK):
Ingen aktuelle planer - men forespørgsler velkomne
Den prisbelønnede sækkepibe- og fløjtevirtuos Calum Stewarts kraftfulde og lyriske spillestil er forankret i den traditionelle musik fra hans hjemstavn i det nordlige Skotland. Hans tydelige musikalske udtryk har udviklet sig gennem samarbejde med forskellige andre musikere i de skotske og irske musiktraditioner. Til forskel fra de fleste andre skotske sækkepibespillere har han kastet sig over den irske variant, de såkaldte uillean pipes.
Calum Stewart var med til at danne Mànran i 2010 men forlod bandet i 2012 for at koncentrere sig om sin solokarriere. Han optrådte i en årrække i en duo med den franske guitarist Heikki Bourgault, men turnerer nu hovedsagelig med sit eget band.
Calum fik for alvor sit store gennembrud med albummet "Tales from the North" fra 2017, og i 2018 blev han kåret til Instrumentalist of the Year ved MG Alba Scots Trad Awards.
Ud over at turnere med sin musik er Calum Stewart også efterspurgt som studiomusiker, og han har i senere år indspillet og optrådt med bl.a. The London Philharmonic Orchestra, The London Symphony Orchestra og BBC Scottish Symphony Orchestra.
"An astounding Uilleann Piper (…) Music that runs as pure as a Highland stream."
Acoustic Magazine
"A musician of outstanding virtuosity (…) Mountain-air piping clarity."
Irish Music Magazine
"Seriously class playing"
BBC Radio Scotland
"(Tales From The North) is an album that illuminates his distinctive position at the intersection of the worlds of Scottish, Irish and Breton traditional music and demonstrates his outstanding playing on the uilleann pipes – together with his high-quality compositional abilities."
Dave McNally, Folk Radio UK
"It is no exaggeration to say that with Tales From The North, Calum Stewart, joins the ranks of thoroughly modern uilleann pipers, who are steeped in their own tradition but cross borders to bring in other influences, and can write a damned fine tune."
Dave McNally, Folk Radio UK